Accident Care in Edmonton
Motor Vehicle Accident
and Worker's Compensation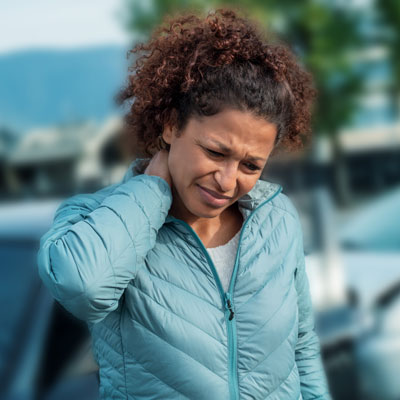 If you have been in a car accident or injured on the job, the team at Oxford Wellness Clinic can assist you. We welcome motor vehicle accident and worker's compensation cases and can help you through the details of properly handling your case.
Motor Vehicle Accident (MVA)
If you have been involved in any type of motor vehicle accident, you must be sure to do the following within 10 days after the collision:
File an injury accident report to the police.
Seek treatment to a primary health care provider (PHCP) such as a chiropractor, physical therapist, or physician. If you only had a minor injury (such as sprain, strain, or minor whiplash), there's no need for an authorization from your insurer. You may immediately begin your treatment, and your insurance company will be directly billed.
File the appropriate forms. These are available in your PHCP, insurer, or insurance broker. Notify your insurance company but make sure to not settle the case until you find out if there are any conditions that might later affect your life-physically and financially. It is common that they begin asking you a series of confusing questions after the accident and record the conversation.
If necessary, hire a lawyer that will work closely with your clinic. Do not provide statements about the accident to anyone other than the police. You should not also sign any documents prior to consulting your lawyer.
Worker's Compensation Board (WCB)
If you have been physically hurt while working, you can go straight to a chiropractor for a treatment. For more than 10 years, this therapy has had the highest satisfaction rate among injured employees. It is also considered as one of the most clinically effective and cost effective methods in treating work-related injuries.
Seeing a medical doctor first is not required. Chiropractors can submit your assessment information to the WCB to review and determine if your claim is accepted.
What to Do If You Get Hurt at Work
Report the details of your injury to your employer. After receiving this notice, he or she must relay it to the WCB-Alberta within 72 hours.
Visit your healthcare provider. Tell them about your injury. Your doctor or chiropractor must then report to WCB-Alberta within 48 hours.
Report to WCB-Alberta and send a Report of Injury form to them as soon as possible.
Learn More Today
If you're in pain, we want to help you. Contact us now to schedule an appointment for Motor Vehicle Accident and Worker's Compensation in Edmonton! Same-day visits are available so you don't have to wait to start your healing.
CONTACT US »

Accident Care Edmonton, North Edmonton AB | (780) 758-8323