Meet Dr. Roshni Sidhu, Chiropractor
An Introduction to Chiropractic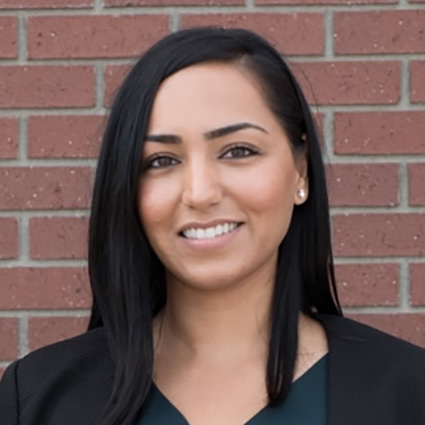 As early as Dr. Sidhu can remember, she's always liked to go against the grain. "I like challenges and inventing my own path." However, she'd never heard of chiropractic care until she worked in an orthopedic surgeon's office at the University of Alberta. Frustrated by some referrals, the surgeon felt many of his patients would be better served by a chiropractor. "It was the first time I'd ever heard of one!"
Growing up in small-town northern British Columbia, chiropractic was a new idea for Dr. Sidhu. Many of her courses at the university were physics-based. The professor of one such course happened to be a chiropractor who taught biomechanics. After talking with this professor, Dr. Sidhu realized chiropractic would be the perfect career for her.
Continuing to Learn
After completing her Bachelor's degree at the University of Alberta in 2008, Dr. Sidhu decided to further her career in chiropractic. She attended Canadian Memorial Chiropractic College, earning her Doctor of Chiropractic.
Continuing to stay updated on the latest health research and developments is essential for Dr. Sidhu. She takes regular continuing education courses, including earning certifications in Active Release Therapy® and Graston® Technique.
Help For Your Concerns
When it comes to patient care, Dr. Sidhu uses a combination of techniques focused on correcting the root cause of the problem as well as its symptoms. Dr. Sidhu enjoys working with diverse patient demographics and values building long-term relationships with them.
Her areas of expertise include
Arthritis
Athletic therapy
Biomechanics
Ergonomics
Female care
Jaw issues
Postural assessment & correction
Pregnancy
Stress reduction
Whiplash treatment
Dedicated to Living Well
A lifelong advocate of healthy living, Dr. Sidhu has been an integral part of many physical health awareness campaigns. She dedicates her knowledge and training to encouraging and promoting preventive care, healthy aging, and an active lifestyle.
Dr. Sidhu's hobbies include working out, doing Muay Thai, running, and playing recreational team sports such as soccer. She also enjoys cooking and taking golf lessons.
Get the Care You Need
Book an appointment at our clinic today and get the care you need to live your best life. Call us today!

Dr. Roshni Sidhu | (780) 758-8323