Acupuncture in North Edmonton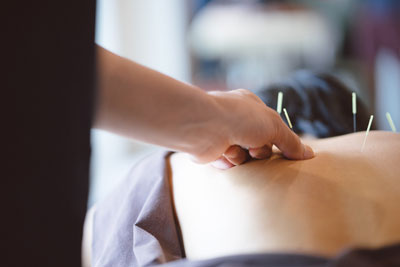 Acupuncture is a practice and component of Traditional Chinese Medicine (TCM). It is a complete healthcare system approach to treating and preventing disease. Acupuncture has been practiced for thousands of years and has been viewed as an alternative and complementary treatment choice in Western culture.
FAQ
What does acupuncture do?
In this traditional practice, diseases and health disorders are viewed as an imbalance of energy. Acupuncturists work with the body's energy, which flows along meridians or well-defined pathways. They aim to prevent or treat illnesses by inserting thin needles at specific points along the body's meridians to normalize the energy flow. Acupuncture induces biochemical changes in the body, which has beneficial effects and can drastically improve healing.
Does it hurt to have acupuncture?
Acupuncture rarely causes pain. What most people experience is a dull ache around the base of the needle or a slight tingling feeling when it is inserted. Points at the extremities, like toe or finger ends, can sometimes hurt but the sensation lasts for only a brief period.
Our Acupuncture Rates
Initial Visit / Assessment and Treatment – $120.00
Subsequent Acupuncture Treatment – $100.00
---
Acupuncture North Edmonton AB | Oxford Wellness Clinic | (780) 758-8323