Meet Jennifer Pratt, Osteopath, RMT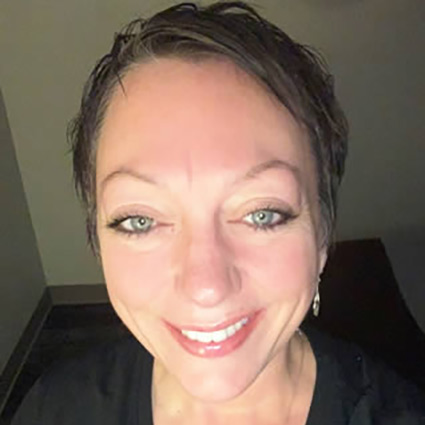 Jennifer has been a Manual Osteopath since 2015 and a Massage Therapist since 2002. She's very passionate about her work, loves the challenge each new client brings, and says it's like putting pieces of a puzzle together.
Her ultimate focus is pain management and restoration of mobility. She wants to ensure her clients can live pain-free lives to their fullest potential. Jennifer is also fluent in French to service more people.
Skilled and Knowledgeable
With a focus on osteoarticular corrections and myofascial soft tissue release, which feels like a very deep tissue massage, Jennifer is able to provide relief to her clients. This care method assists in moving bones and helping the bones stay in proper alignment, creating new memories and eliminating old memories in the surrounding tissues.
Her hands are strong enough to get to the deepest layers of muscle tissue, but her touch is gentle yet soothing enough that she can manipulate around sensitive tissues. She's very intuitive and sometimes puts everything she knows scientifically aside, trusts her intuition, and keeps searching through all the other systems until she finds what's precisely wrong, then works with you to alleviate it.
Outside the Practice
In her free time, Jennifer likes to spend quality time with her child, and they absolutely love going to the mountains to recharge and energize in nature. She enjoys the simple things in life, such as camping, hiking, swimming, and the outdoors. Jennifer also enjoys ecstatic dance to help move energy through the body and express it through movement.
She has recently been called to Shamanic initiation and has undergone sacred earth ceremonies such as fire walking and earth grounding. She continues finding new ways to expand and grow while harmonizing herself on her soul's journey.
Jennifer is a huge believer in the body's innate ability to heal itself and all its systems on a quantum healing level. She continues to learn and grow on this energetic level and is learning to heal herself.
Care That Suits You
While she's working, Jennifer is great at educating her clients so they know what she's doing and why she's doing it. She gives everyone specific information so they can confidently go home and care for their little aches and pains.
Jennifer talks throughout the session to get your feedback so she can work with you to try and fix the issues as efficiently as possible. If you require a quiet massage or session, she will also accommodate that.
Book Today
Contact Oxford Wellness Clinic to learn more about osteopathy and what it could do for you. Call us now or book online!

Jennifer Pratt | (780) 758-8323