Meet Sebastian Islas Campos, Massage Therapist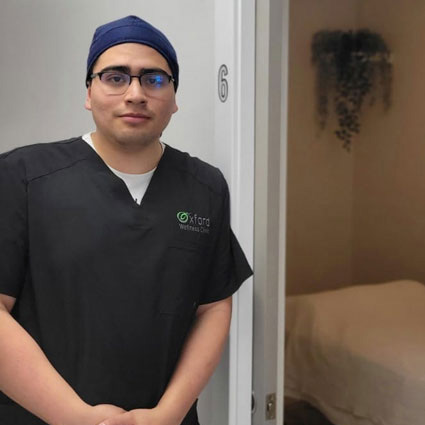 Sebastian Islas Campos is a registered massage therapist at Oxford Wellness Clinic. He graduated from Makami College in 2022.
He's passionate about the body's anatomy and how to heal the body using the techniques he has learned. Sebastian was inspired growing up by his aunt, a physiotherapist, so he decided to pursue a career in the healing arts. When he moved to Canada, he became an R.M.T. as he couldn't continue as a physiotherapist.
Sebastian has experience in various
massage styles
, such as sports, deep tissue, reflexology, therapeutic, lymphatic drainage, and pre-and postnatal massage.
Outside The Office
In his spare time, Sebastian enjoys outdoor activities. He also stays busy with his workout routine, focusing on strength and resistance training. Aside from physical activities, he also likes to take the time to relax and calm his mind and body.

Sebastian Islas Campos | (780) 758-8323